Halal Travel Guide to Lisbon, Portugal
Despite being on the World's Leading City Destination in 2018, Lisbon is surprisingly still overlooked by most travellers coming to Europe. This Portuguese capital easily trumps other European cities in three things; sun, old-school charm and value.
As compared to popular European capital cities such as London, Rome and Paris, Lisbon receives the most hours of sunshine, predates the other cities by hundreds of years, and is the least expensive!
To top it all off, Lisbon is a Muslim-friendly city. Nestled on the western edge of Europe, this coastal city's food of choice is, you guessed it, fresh seafood! Lisbon even has roots in Islamic history. Portugal, once known as Al-Garb Al-Andalus (the west of Spain), was under Islamic rule for over 500 years! Before you book the next flight to Lisbon, here are some of my suggestions on where to eat, explore and stay:
WHERE TO EAT
Seafood Abundance
As mentioned before, Lisbon is a coastal city and a large part of the locals' diet consists of seafood. This makes it easy for Muslim travellers as almost every restaurant will have seafood options on the menu.
The Portuguese take their seafood seriously. Lisbon has some of the freshest seafood I've had in my life. All the seafood dishes I ordered, such as salmon, cod, tuna steak and octopus, were top-notch. The seafood dishes are usually grilled and served with a side of potatoes and veggies. This makes the seafood the star of the plate and boy, it sure was!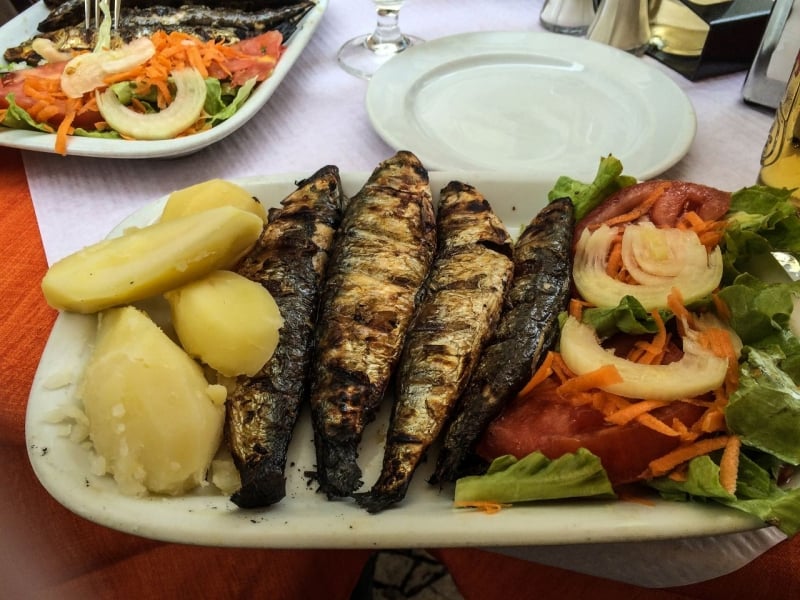 Out of all the different types of fish, the Portuguese favourite is the plump, silver sardine. There's even a Lisbon Sardine Festival, also known as the Feast of St. Anthony, every year on 12 June!
When hearing the word sardine, most people would think about the canned sardines and usually in tomato sauce. Here in Portugal, they eat it fresh. Sardines are served grilled with a side of potatoes and salad; or served on slices of sourdough bread with roasted bell peppers. The sardines were so flavourful, even without any sauces. You definitely have to give Lisbon's beloved dish a try.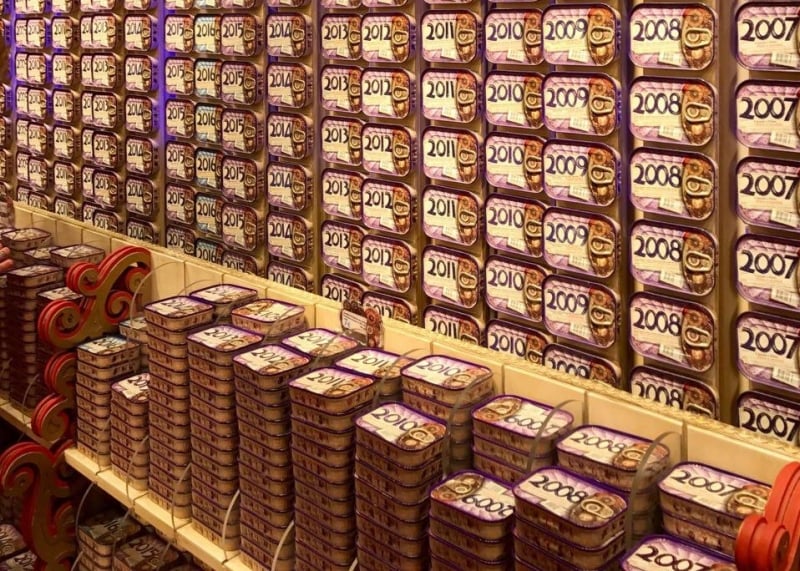 If you're looking for souvenirs, how about bringing home some sardines? Along the streets of Lisbon, you can easily find vintage-style cans of sardines. They're a really popular souvenir in Lisbon. With different designs to choose from, you will definitely be spoilt for choice.
Please do note that most restaurants sell alcohol and non-halal meat, but you could ask for your seafood to be cooked separately.
Since it is not halal-certified, please dine at your own discretion.
Time Out Market
Mercado da Ribeira is the oldest food market in Lisbon. In 2014, part of the market was turned in to Time Out's – yes, the famous media company – first food court. Unlike regular food courts, the food that is offered at Time Out Market is on a gourmet level with food kiosks run by famous Portuguese chefs. Although it sounds atas (high class), these fine dining meets street food are priced affordably. There is also a wide array of cuisines here; from Portuguese food to Asian cuisines!
After making a few rounds around the food court, I decided to go for O Prego da Peixaria's Salmon Burger with a side of fries. The salmon patty was juicy and packed with so much flavour. The charcoal English muffin brought an earthy flavour to the plate, which nicely complemented the fish. Please do note that since most food kiosks sell alcohol and non-halal meat, do dine at your own discretion.
Address: Mercado da Ribeira, Avenida 24 de Julho, 1200-479 Lisboa, Portugal
Opening hours: Sundays to Wednesdays 10 am to 12 am, Thursdays to Saturdays 10 am to 2 am
Pastéis de Belém
A trip to Lisbon won't be complete without trying Lisbon's Portuguese egg tart, locally known as Pastéis de Nata! Walking down the streets of Lisbon, you'll notice that there's a bakery selling Pastéis de Nata on almost every corner. I've tried almost a dozen Portuguese egg tarts in Lisbon, but my favourite, hands down, is the tarts from the Pastéis de Belém bakery.
The origin of Portuguese egg tarts can be traced to this very bakery! It is said that only three people in the world know the century-old recipe to this world-famous egg tarts. Despite long queues, their egg tarts, named Pasteis de Belém, are always served fresh and warm. Pasteis de Belém has everything I want in an egg tart; flaky crust and a gooey egg custard centre. The friendly staff also suggested putting cinnamon or castor sugar on top if you want an extra kick of sweetness. Oh, what I would give for a bite of Pasteis de Belém right now.
All the Portuguese egg tarts that I tried did not contain alcohol or animal-derived ingredients such as gelatine or lard. Don't be afraid to double-check with the friendly local bakers! Since Pastéis de Belém bakery is not halal-certified, please dine at your own discretion.
Address: Rua de Belém 84-92, 1300-085 Lisboa, Portugal
Opening hours: 8 am to 11 pm daily

WHAT TO SEE
Torre de Belém

Just a 30-minute tram ride away from central Lisbon is the Torre de Belém (Belem Tower). This UNESCO World Heritage Site was built between 1514 and 1520 – that's about 500 years ago! Within five centuries, Torre de Belém has been used for many purposes; from a defence tower to a lighthouse, to a customs checkpoint, and finally to a museum.
For an entrance fee of €6 (~S$9.15), you get to explore the tower's five floors and roof terrace. It is also a short walk from Pastéis de Belém bakery, so bring your delicious Portuguese egg tarts over and marvel at one of Lisbon's architectural jewels.
Address: Av. Brasília, 1400-038 Lisboa, Portugal
Opening hours: October to April 10 am to 5.30 pm daily, May to September 10 am to 6.30 pm daily
Entrance fee: Adults: €6, Children under age 14: Free
Pena Palace, Sintra

Perched on a rocky ridge and surrounded by the lush environment of Parque da Pena(Pena Park) is the Palacio Nacional da Pena (Pena Palace). The stunning Pena Palace is another one of Lisbon's UNESCO World Heritage Site.
With a mix of Manueline and Islamic architectural style, the palace was built from 1842 to 1854. Painted in a riot of bright colours and decorated with intricate tile patterns, this whimsical palace seems like it belongs in a fairytale!
It's easy to get to Pena Palace. First, hop on the Linha de Sintra suburban train, which will bring you to Sintra in about 40 minutes. From there, you can hike or take a bus to Pena Park entrance. Pena Palace is located not too far from the ticketing office.
The entrance fee which provides access to Pena Park and the palace terraces costs €7.50 (~S$11.50). If you want to go view the staterooms in Pena Palace, the ticket costs €14 (~S$21.35).
Address: Estrada da Pena, 2710-609 Sintra, Portugal
Opening hours: 10 am to 6 pm daily
Entrance fee: Adult: €7.50, Child & Seniors: €6.50, Tickets for access inside Pena Palace: €14.00
Praça do Comércio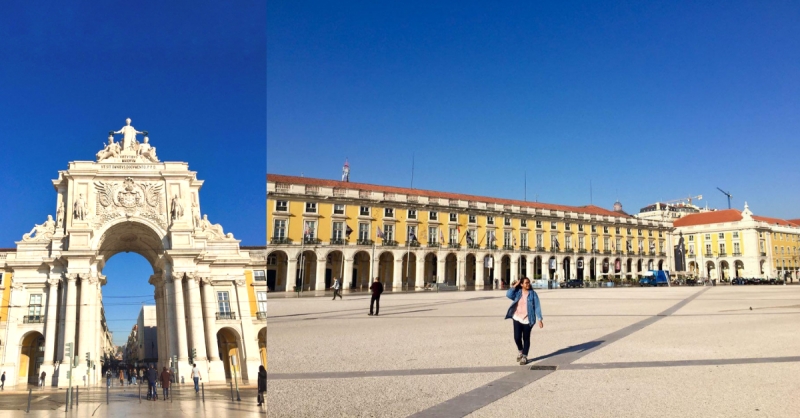 Although it might not look like much in pictures, you have to physically stand in Praça do Comércio, one of the largest squares in Europe, to truly appreciate its beauty. Three sides of the square are surrounded by traditional yellow buildings, and the last side opens up to the serene Tagus River. Right in the middle of the square is a statue of King José I and his horse Gentil, a symbol of royal power and nobility.
Praça do Comércio (Commercial Square) was once Lisbon's busiest hubs, where trading took place and expedition ships sailed out. Even today, Praça do Comércio can still be considered a hub; providing easy access to a myriad of attractions, such as Pátio da Galé, Cais das Colunas and the Lisbon Story Centre.
To get a bird's eye view of the square, climb up the arch, also known as Arco da Rua Augusta. For an entrance fee of €3 (~S$4.60), you also get to savour views of Lisbon's symmetrical streets on one side, and the beautiful Tagus River on the other.
Address: Praça do Comércio, 1100-148 Lisboa, Portugal
Opening hours: Arco da Rua Augusta is opened from 9 am to 8 pm daily
Entrance fee: Adults: €3, Children under 5: Free
Pink Street

With many things to see in history-rich Lisbon, Rua Nova do Carvalho is usually neglected by travellers. More commonly known as Pink Street, this underrated spot should be on your must-visit list. Like most places in Lisbon, this quaint street also has its fair share of history.
Rua Nova do Carvalho was once a red-light district, teeming with brothels and run-down bars. In 2011, the streets were washed in a millennial pink hue and a new kind of nightlife was breathed into the area. Today, Pink Street is lined with cosy hip cafés, where you can take a break after getting shots for your Instagram feed.
Address: Rua Nova do Carvalho, 1200-370 Lisboa, Portugal
WHERE TO STAY
Avenida da Liberdade, Baixa District or Chiado District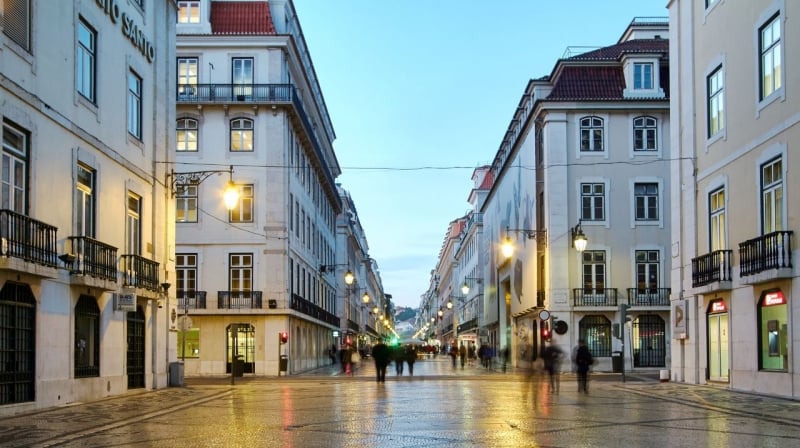 If you're all about convenience, the Avenida da Liberdade, Baixa district and Chiado district is where you should stay. There is an extensive range of accommodations available in these areas that cater to any budget and traveller; from hostels to high-end hotels. Numerous restaurants, retail shops and main tourist attractions are also within easy reach in these areas.
Alfama District
If you're looking for an area with some character, try staying at Alfama district. Being one of the oldest districts of Lisbon, you will find yourself transported to the past in Alfama as you stroll along her steep hills and narrow streets.
The popular choices for accommodation in this district are rental rooms and apartments. Want a taste of the high life? Treat yourself and book a room in a castle! Solar Do Castelo is the only hotel within São Jorge Castle walls, located at the top of Alfama.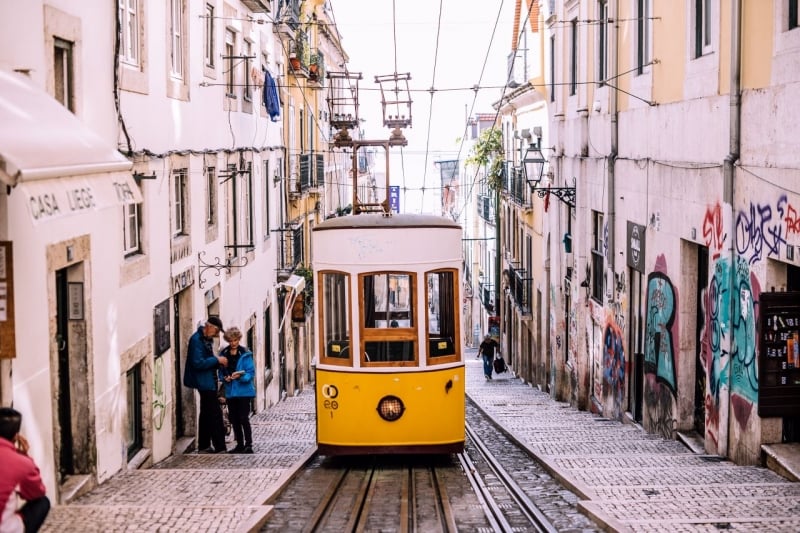 Although Lisbon's metro is one of the cleanest in Europe and gives you easy access from the airport to the city, its network is still pretty limited. Trams will definitely be your best choice of transport in Lisbon, bringing you to popular areas such as Belem and Alfama with ease.
Not only are they practical, but Lisbon's iconic trams are also pieces of history, with some being a century old! There is just something undeniably joyful about travelling on a bright yellow tram.
We hope this brief guide, highlighting Lisbon's creme de la creme, has made you add this underrated city to your travel bucket list. With a story and centuries of history behind her food, architecture and even her transport system, Lisbon is definitely one of my favourite cities in Europe. I'm sure it will be yours too!
Post by Tripzilla